CityPass Atlanta Coupon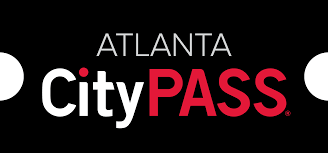 How to Redeem CityPass Atlanta Coupons:
Purchase your ticket
online
directly with CityPass to get the best ticket price.
About CityPass Atlanta:
From the best peaches to the best attractions, the good stuff is all in Atlanta. Visitors to this beautiful southern city may wonder if every street really is called Peachtree Street. The very best attractions have been hand-picked and wrapped up in an easy-to-use ticket booklet that's good for 9 days, giving you plenty of time to make some delicious memories.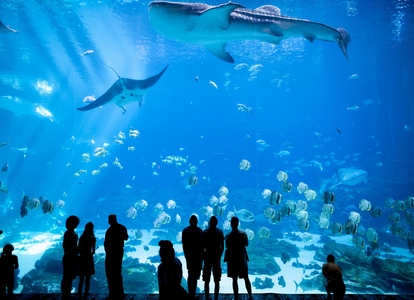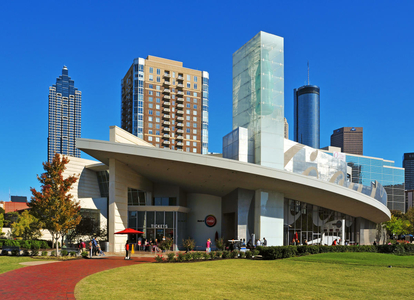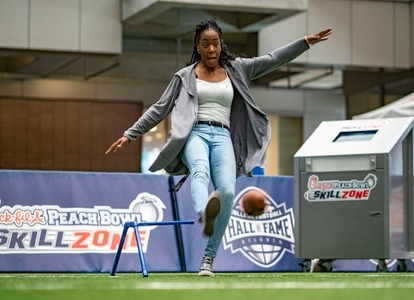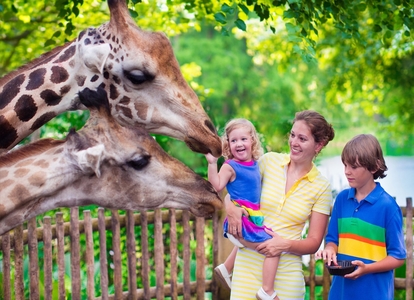 More on CityPass Atlanta:
Spend Less. Experience More. See amazing animals, fun pop culture, inspiring history, fascinating natural science and more with Atlanta CityPASS tickets. And, you'll also enjoy:
One simple purchase.
30 consecutive days of validity, including the first day of use.
Flexibility to visit the attractions in any order you wish.
Instant delivery with convenient mobile or printable ticket options.
Feel like a SCUBA diver in an endless blue sea, mesmerized by thousands of fish swimming overhead, as you view the Ocean Voyager exhibit. Home to four whale sharks and four manta rays, plus stingrays, grouper and sharks, Ocean Voyager has a 100-foot long underwater tunnel and 4,574 feet of viewing windows!
Marvel at a trio of beautiful belugas and spot curious animals such as Australian weedy sea dragons, garibaldi damselfish and Japanese spider crabs hanging among rocky ledges and kelp forests in Georgia-Pacific Cold Water Quest.
Complete a series of entertaining challenges that allow parents and children to learn about aquatic life in Aquanaut Adventure, and even become a certified Georgia Aquarium Aquanaut!
Experience the beauty and agility of dolphins in an exhilarating performance that gives a powerful message about the importance of caring for and about aquatic creatures in AT&T Dolphin Tales.
Join Deepo, an orange garibaldi fish and the Aquarium's mascot, as he takes the audience on an animated undersea adventure with a variety of entertaining characters, including friendly sharks, singing sea turtles and playful dolphins, in Deepo's Undersea 3D Wondershow.
Immerse yourself in the rich heritage of Coca-Cola in the Loft, where you'll be surrounded by nearly 200 historical and international artifacts representing more than 125 years of Coca-Cola.
See first-hand how the bottling process works, and pick up your own complimentary commemorative glass bottle of Coca-Cola.
Learn about the origins of secret formula and visit the vault that secures it. Along the way, mix your own beverage with the Virtual Taste Maker, and see how your recipe compares to the Coca-Cola formula.
Explore Coca-Cola's influence on popular culture in the Pop Culture Gallery, where you'll find original artworks, artifacts and interactive exhibits.
Sip, mix and savor to your heart's delight in Taste It! Choose from more than 100 different beverages representing Coca-Cola products from all over the world.
Get an overload of cuteness when you meet the Zoo's 7 pandas, including twin sisters Mei Lun and Mei Huan, born in July, 2015, and learn about the work the Zoo does to protect the critically endangered bears.
Learn why the Zoo is widely respected for the study and care of great apes, and see the 5 groups of gorillas – 19 gorillas in all – that live in the Ford African Rain Forest.
Get a taste of the African savanna at African Plains and Mzima Springs, a five-acre landscape that's home to elephants, lions, giraffe, black rhinos, zebras, lesser kudus, meerkats and warthogs.
Explore one of the nation's most renowned collections of reptiles and amphibians at World of Reptiles – including one of the world's rarest lizard species, the Guatemalen beaded lizard.
Meet a keeper or watch training in action at keeper talks and training demos.
Take some time to play while you're at the Zoo – hop aboard the Zoo Train, go for a spin on the carousel, and explore new heights on the Rock Wall and Canopy Climber, all included with CityPASS Admission.
Fernbank Museum of Natural History:
Step into prehistoric Patagonia and see Argentinosaurus, the largest known dinosaur to ever walk the Earth. Close behind it, the 47-foot long, 8-ton Giganotosaurus looks ready for its next meal.
Explore the natural history of Georgia and the story of our planet as you journey through lifelike geographic regions and historic re-creations in A Walk Through Time in Georgia.
Highlights include a dinosaur gallery, a giant sloth, a cave, and the sights and sounds of the Okefenokee Swamp.
Stimulate your senses with lasers, mirrors, water, acoustics and more in Sensing Nature.
Watch your kids become explorers, scientists and adventurers as they discover the many wonders of the natural world through hundreds of hands-on activities, live animal displays and engaging encounters in NatureQuest.
Take a walk on the wild side as you explore 75 acres of new outdoor nature adventures. WildWoods and Fernbank Forest combine to highlight the natural world through immersive trails, educational programming, hands-on exhibits, and beautiful scenery.
College Football Hall of Fame:
Make a memorable entrance through the Entry Tunnel, then marvel at the impressive Helmet Wall, featuring helmets from all 765+ college football teams.
Be part of the action in The Playing Field, an indoor half-football field that includes a massive 36-foot high definition video board and a regulation goal post.
Test out your football skills at the Chick-fil-A Peach Bowl Skill Zone. Kick a field goal, show off your throwing arm, and test your agility in an obstacle course.
Feel the joy and anticipation of game day in Coca-Cola Fans' Game Day, with various exhibits and interactives dedicated to tailgating from the game's early years through today, mascots, bands, cheerleaders and social traditions.
Immerse yourself in a behind-the-scenes look at the game day experience in The Game of Your Life, a 4K feature film shown in the Game Day Theater.
Center for Civil and Human Rights:
Get a rare look at some of Dr. Martin Luther King, Jr.'s personal papers and items.
See the defining moments of the American Civil Rights Movement of the 1950s and 1960s brought to life.
Learn about the global human rights movement and find a connection to individuals who are taking a stand in the contemporary fight for human rights.
Experience interactive touch screen technology, powerful videos, original recordings and individual stories of courage in each exhibition.
Discover original artwork by Ross Rossin, Platon, Paula Scher and more.