Dolphin Discovery Panama City Beach Coupons

How to Redeem Dolphin Discovery Panama City Beach Coupons:
Purchase your tickets directly from
Dolphin Discovery
and get the best prices online. Travelin' Coupons donates 10% of its proceeds to the Student Youth Travel Foundation! Thank you, we love you, and have fun in Panama City Beach!

About Dolphin Discovery Panama City Beach:
Welcome to Gulf World by Dolphin Discovery! Located in Panama City Beach, in the northern part of Florida, known for their beautiful sugar-white sandy beaches and blue crystaline water is one of the favorite vacation destinations for most of the southern United States residents. Enjoy the vast amount of things to do in Panama City Beach; mysterious family friendly mazes, sport fishing, exciting nightlife and relaxing spa getaways.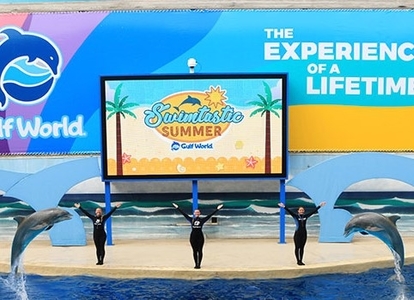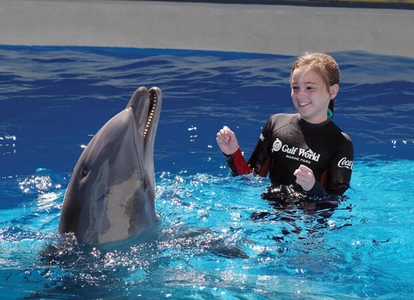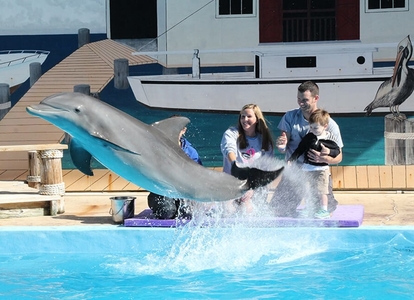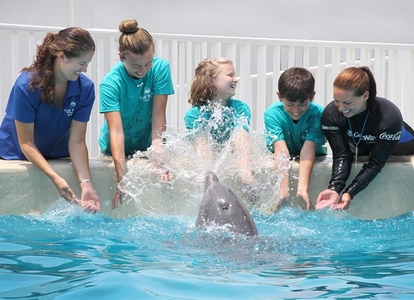 More on Dolphin Discovery Panama City Beach:
Dolphin Discovery General Admission:
Discover Gulf World by Dolphin Discovery and live the experience of a lifetime in Panama City Beach which is one of the world's most beautiful beaches with miles of stunning white sand and emerald green water. Gulf world is the perfect park for all the family. The general admission will allow you to enjoy daily educational shows featuring dolphins, sea lions, tropical birds, sharks, alligators, sea turtles, and much more.
Dolphin Encounter:
If you're planning to visit the incredible powder-white sand and turquoise-blue water of Panama City Beach, Florida anytime soon, you surely have to visit Gulf World by Dolphin Discovery. Visiting this awesome tourist attraction is the best chance you and your family will have to be in direct contact with the most incredible marine mammals of the world while you learn about their environment and other species.
Dolphin Swim Adventure:
You can enjoy the experience of a lifetime at Dolphin Discovery at Gulf World Panama City Beach. and interact with them as they kiss you, snuggle with you. The Swim Adventure program includes the Belly Ride, where you will hold on to the dolphin's fins as he rides face-up across the water. Watch all their neat tricks and games sharing their love and charisma with you. Our marine mammal specialists will tell you all the information you need to know about them.
Dolphin Royal Swim:
Gulf World by Dolphin Discovery is the perfect place to have a wonderful time exploring the marine life beauty. Enjoy the most incredible swimming with dolphins program, The Dolphin Royal Swim with your loved ones. During the Royal Swim, you'll be able to experience lots of different activities that includes the most lovely kiss you've ever had, the coziest hug, the awesome foot push where dolphins will propel you from your feet up to the water surface, a dorsal ride and other activities. Remember that in all of our Dolphin Discovery water activities the use of life vests is absolutely mandatory.
Dolphin Meet N Greet:
When traveling to Florida, the ideal thing to do is to meet a dolphin Program because it was created for all ages. You and your children can interact who is especially happy to meet you. You can enjoy meeting the dolphins even if swimming isn't your thing in this poolside program. You will experience the dolphin's playful nature, at Gulf World by Dolphin Discovery in Panama City Beach. Guest get to interact with them through behaviors and touches, and learn about this fascinating species!
Swim Journey:
Now during your visit to Gulf World by Dolphin Discovery you'll be able to enjoy an incredible brand new experience, swimming with two different types of dolphins; rough-toothed and bottlenose dolphins. Gulf World is the only park of the world that offers to all our visitors this new amazing interactive program: Swim Journey! Both type of dolphins are really adorable and social but the most visible difference between them is that the rough-toothed dolphins have a conical head, a slender nose and as the name implies; their teeth have a roughened surface with narrow irregular ridges while bottlenose dolphins have a shorter snout and a more visibly bulging melon (forehead).
Address & Contact Information:
Dolphin Discovery
15412 Front Beach Rd
Panama City Beach, FL 32413
www.dolphindiscovery.com