The famous Niagara Falls is a group of waterfalls spanning Ontario, Canada, and New York, United States. The most tourist traffic occurs in the summer as the Falls turns into a day and night attraction. The floodlights of Niagara provide a beautiful sight that lasts for several hours into the night. If you are planning on visiting this tourist destination, add the following top 10 Things to Do In Niagara Falls to your list of spots to visit!
1. Niagara Falls in One Day: Deluxe Sightseeing Tour of American and Canadian Sides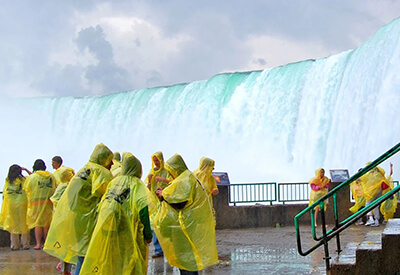 Niagara Falls in One Day: Deluxe Sightseeing Tour of American and Canadian Sides is the most efficient out of all Niagara Falls Tours. The tour is guided and takes visitors through Niagara Falls on both US and Canadian sides!
2. Night on Niagara Tour with Power Station Light Show
The Night on Niagara Tour with Power Station Light Show is an entertaining spot among Niagara Falls Attractions. This Show includes dinner and a tour guide that will lead you to the Illumination Tower!
3. Niagara Falls Grand Helicopter Adventure
The Niagara Falls Grand Helicopter Adventure allows guests to see Niagara Falls in a different light. The helicopter takes passengers around Niagara Falls' most famous sites.
4. Maid in America Tour
The Maid in America Tour takes guests through unique spots across Niagara Falls. Guests will see travel on top of the Prospect Observatory, view the Maid of the Mist gorge cruise, and travel through the Cave of the Winds.
5. Canadian Rainbow Tour
The Canadian Rainbow Tour takes tourists on the Hornblower Niagara Gorge cruise to the Horseshoe Falls. Additionally, guests can travel up the Skylon Tower for a beautiful view of Niagara Falls!
6. The Niagara Skywheel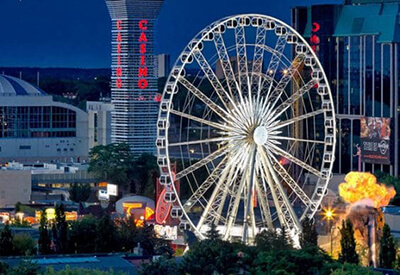 The Niagara Skywheel is Canada's largest observation wheel at 175 feet. The Skywheel lasts for 8-12 minutes and features intense views of the Falls!
7. Botanical Gardens
The Botanical Gardens in Niagara Parks features 99 acres of award-winning landscapes! Visit the Botanical Gardens while the flowers are in bloom for a breathtaking sight. This destination features an aromatic herb garden and a rose garden full of more than 2400 roses.
8. Queen Victoria Park
Queen Victoria Park offers a variety of restaurants, views of nature, and landmarks. Queen Victoria Park is located by the Horseshoe Falls and the Fallsview tourist district.
9. Floral Clock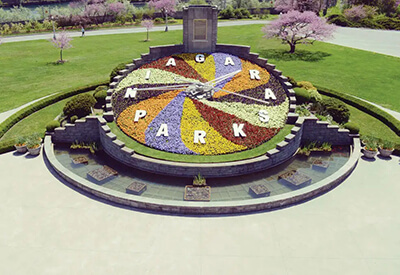 The Floral Clock lives on Niagara Parkway. As a major tourist attraction, the Floral Clock consists of beautifully intricate designs made of carpet bedding plants that get changed two times a year.
10. Nikola Tesla Statue
The Nikola Tesla Statue was a gift from the former Yugoslavia to the United States in 1976. Tesla created the first hydroelectric power plant in Niagara Falls. Now, the statute sits in Canada!