Los Angeles is a big city. Aside from the obvious, there are lots and lots of romantic things to do. While not all of these places are unique to L.A., they're still worth checking out.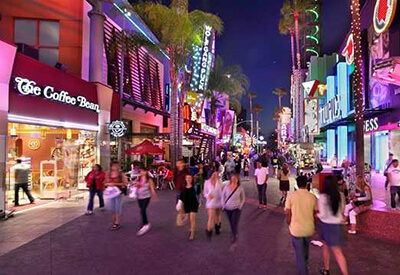 First, there's Universal CityWalk. The architecture is sometimes cool simply in that "someplace where there used to be offices now has food courts" way that makes you wonder what happened when no one was looking. It also serves as the public gateway between Hollywood proper and Studio City/North Hollywood, so it's going to be on many people's itineraries anyways.
Next up is the Santa Monica Pier. It might not have as many exciting shops as your local mall, but there are a few fun things there, and more importantly, it's a somewhat large open area with lots of restaurants and shops surrounding the main pier that you can wander around in together. There are also some charming views from that part of town – if you're willing to drive an hour south down Pacific Coast Highway (PCH), you can find all sorts of scenic cliffs and beaches where you could go for a walk or bike ride.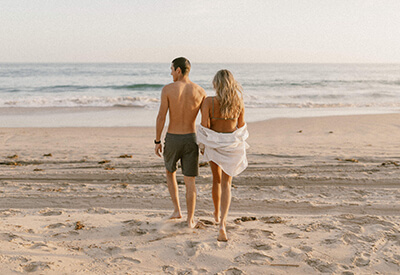 Further north up PCH again in Malibu, which is one of my favorite places to go if I want to have a fun time outdoors. Furthermore, it depends on how far you're willing to drive down PCH – further south is Laguna Beach, and the trip up that way has some better views. Santa Barbara's a popular destination for that area too, but it's so lovely you should probably spend the night there instead of trying to drive back in one day.
Inland from all of these beaches and cliffs are mountains. In Los Angeles, this isn't quite as much an "adventure" activity since we don't get mountain weather or seasons, but they can still be pretty cool places to check out. The San Gabriel Mountains behind downtown L.A., the Hollywood Hills where many celebrities live, and the Santa Ana Mountains to the east are all pretty popular hiking destinations. However, they're also worth visiting even if you don't want to get quite that active – look at a map of them and try to find points where mountain roads intersect with highways. There's usually a road up in the mountains right along the route, and these places tend to have expansive sweeping views of pretty much everything below them, which is excellent for just driving around or taking pictures.
There's also Griffith Park, which is neither a mountain nor near any beaches. Still, it deserves an honorable mention here because, unlike most other large open green spaces in L.A., it has existing facilities built in so people can do things like drive golf carts around or take tours of its various sights. There's also the Observatory, which is just really cool to visit if only for the view. You can see all of downtown L.A., Hollywood, and even further into both directions on a clear day with the San Gabriel Mountains in one direction and Santa Monica Bay in the other. Check out this awesome tour!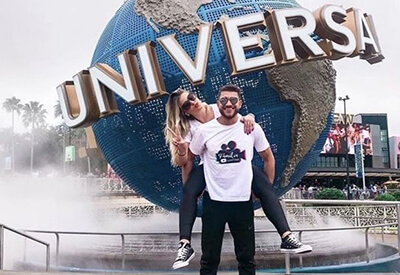 If you've got some extra money lying around, or you don't mind spending it, definitely check out Universal Studios, Disneyland, Knott's Berry Farm, or Six Flags Magic Mountain. They're expensive, but they're worth seeing once, especially if you like roller coasters (and there are some at all of these places). The Grove/Farmers Market area has shopping and dining options. If none of these is your thing, there's still plenty more to do in L.A. aside from eating mediocre food at chain restaurants (although I still think California Pizza Kitchen is pretty good).
Don't forget to check Groupon for other amazing deals in Los Angeles. Click HERE to view current offers from Groupon.