The logistics that are required to plan a family trip can be a little daunting. You want everything to be perfect, and you want everyone to be happy. Lucky for you, there are many fun things to do in Austin that can help you successfully accomplish both of these goals.
1. Austin Biker Gang E-Bike Adventure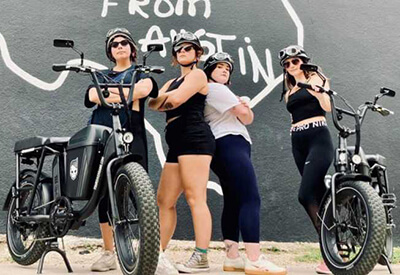 The transportation options for Austin tours come in several different forms. One of the most unique is checking out the sites and sounds of the city while riding an E-bike.
2. Haunted Austin Walking Tour
There are traditional Austin attractions, like the music and the food, and then there are those that are difficult to categorize. The Haunted Austin Walking Tour is one of the latter. Experience the history of Texas's capital city on a guided tour that adds a supernatural twist.
3. Congress Avenue Bat Bridge Kayak Tour
Every evening, over a million bats fly out from underneath Austin's Congress Avenue Bridge. You can experience this natural phenomenon with a front-row view from your kayak on Lady Bird Lake.
4. Austin Zoo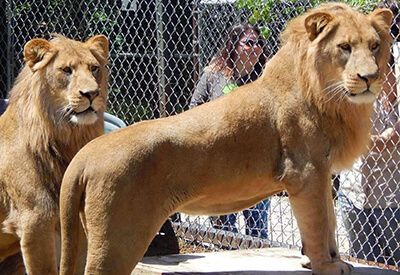 With over 100 different species and more than 300 animals spread out over 15 acres, the Austin Zoo is a definite stop that visitors of all ages will enjoy.
5. iFly Austin Indoor Skydiving
If you are an adventurous traveler, you will want to slot in some time on your itinerary to stop by iFly Austin Indoor Skydiving. Its vertical wind tunnel will simulate all of the conditions and even the adrenaline rush of an actual skydiving experience from a plane.
Have a blast with your friends and family at Class Axe Austin while learning the art of axe throwing from an experienced instructor.
7. Congress Avenue Bat Watching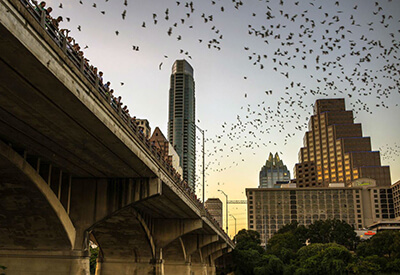 If you're looking for a place from shore to watch the Congress Avenue bats emerge from under the bridge, there are plenty of no-cost options available. Just bring a blanket and a chair, then sit back and enjoy the show.
There are plenty of self-guided things to do and discover in Austin. Visiting its downtown is like walking through an art gallery, minus the entrance fee. Take a stroll around the city, appreciating the murals that brighten the sides of the buildings.
Spend some time soaking in the great outdoors at Barton Creek Green Belt. This park is popular with locals and visitors for its hiking, mountain biking, bird watching, swimming and fishing.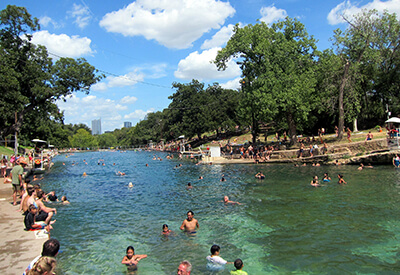 One of the best things to do in Austin on a nice day is to visit Zilker Metropolitan Park. Here you will find 351 acres of lush, green space to enjoy any number of different recreational and leisure activities.
Travelin' Coupons is full of attractions and tour ideas to make your next trip to Austin a success. Check out our website to help you prepare the perfect itinerary for your vacation to Texas's capital city.