With all of its historical sites combined with all of its contemporary entertainment, there is never a shortage of exciting things to do in San Antonio. The next time you plan your visit to Alamo City, this list of tours and attractions is sure to help you create the perfect itinerary.
1. San Antonio River Walk Cruise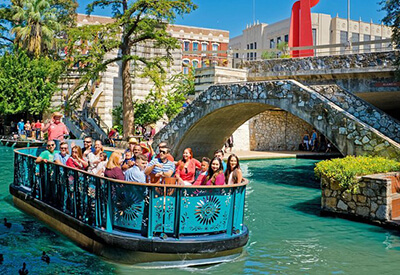 If you are looking for a relaxing way to take in all of the sights and sounds along the San Antonio River Walk, this cruise is for you. Follow this up with a closer look at the city when you hop on a double-decker bus. Your San Antonio tour then concludes at the top of the Tower of America.
With over 3000 animals and the largest collection of birds in the world, the zoo, located in Brackenridge Park, is one of the San Antonio attractions that is certain to please the entire family.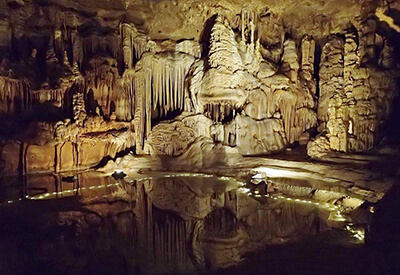 Typically, San Antonio tours will take you on land, water and in the sky. However, when you visit Cave Without a Name, your guide will lead you on a subterranean excursion 80 feet beneath the surface.
4. Ripley's Believe It or Not!
For an interactive and truly unique experience, visit Ripley's Believe It or Not! San Antonio. Here you will explore three floors of oddities and other interesting attractions from across the globe.
5. Sea World
Sea World San Antonio, a 250-acre oceanarium and theme park, offers animal encounters and extraordinary rides that are suitable for guests of all ages to enjoy. Whether you are looking for an adrenaline rush on a "hypercoaster" or an opportunity to interact with dolphins, a stop at Sea World San Antonio promises to be a day filled with smiles.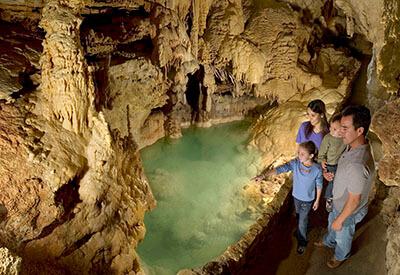 Depending on the level of adventure that you're seeking, Natural Bridge Caverns offers several different tour types. They range from guided with state-of-the-art illumination to a dark crawl through unknown spaces. The stalactites and stalagmites make the scenery and the experience a one-of-a-kind must on any San Antonio itinerary.
Treat yourself to a self-guided stroll along San Antonio's River Walk, a 15 mile stretch of shops, restaurants, cafes, bars and authentic attractions just waiting to be discovered.
Slow things down with a peaceful walk through San Antonio's Tea Garden. The relaxing scenery is filled with lush floral displays, koi ponds, waterfalls and stone bridges.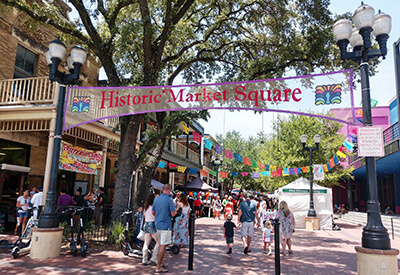 San Antonio's Historic Market Square hosts over 100 local shops and lures visitors in with family events, dancing and other live entertainment. The area brings the culture of old Mexico into the heart of San Antonio.
10. The Alamo
No trip to San Antonio would be complete without a stop at the Alamo. This tribute to Texas heritage is preserved as a living museum, filled to the brim with its captivating history, art and architecture.
Let Travelin' Coupons help you make your time in San Antonio as memorable as possible. Visit our website to explore all of the interesting tours and exciting attractions that the city has to offer.