Tampa is a vibrant city located on the scenic gulf coast of Florida. There are many things to enjoy about Tampa, such as its pirate history, year-round sunny weather, and excellent cigars. Families interested in a Florida getaway will find a broad range of things to do in Tampa.
1. Busch Gardens Tampa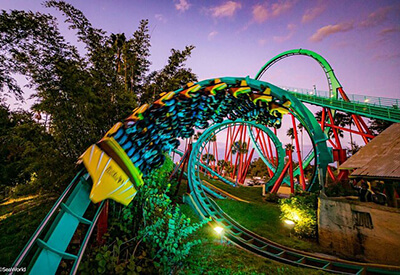 Busch Gardens is a vast theme park and zoo perfect for a family adventure. Each section of the park is inspired by a different region of Africa. Thrill-seekers will find no shortage of high-intensity roller coasters, while those looking for a more laid-back experience will enjoy strolling through the animal enclosures.
2. Adventure Island Tampa
Adventure Island is a water park located across the street from Busch Gardens. Visitors can fly down water slides or relax on inner tubes.
3. The Florida Aquarium
Florida is home to an astonishing variety of sea life, and one of the best ways to experience it up close is to visit the Florida Aquarium located in downtown Tampa.
4. Dolphin Sightseeing Cruise
Dolphins are one of the amazing animals that live in Tampa Bay. Children and adults alike are sure to enjoy the thrill of spotting them on a Dolphin Sightseeing Cruise.
5. Tampa History Cruise
Tampa has a rich history involving Spanish exploration and piracy. A Tampa History Cruise will help visitors gain a deeper appreciation for this beautiful part of Florida.
6. Kayak Tampa Bay
Renting kayaks or paddleboards can be a great way to get exercise on a vacation to Tampa. Visitors who take a tour might get a chance to see manatees or dolphins up close, which makes this one of the top Tampa attractions.
7. Tampa Riverwalk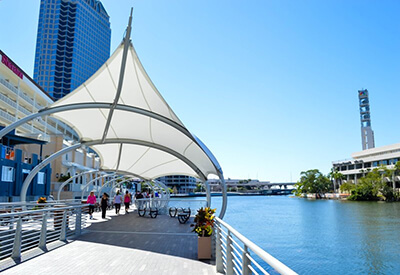 The Tampa Riverwalk is a 2.6-mile walkway that often features free outdoor concerts and art exhibitions. It is also the perfect spot for a family picnic.
8. Visit the Beach
St. Petersburg is a short drive across the bay and features several outstanding beaches, including Madeira Beach, St. Pete Beach, and Indian Rocks Beach.
9. Local Nature Preserves
Tampa Bay is home to several large nature preserves that are perfect for a self-guided family hike or kayak adventure. Popular destinations include Weedon Island, Fort De Soto, and Brooker Creek Preserve.
10. Explore Ybor City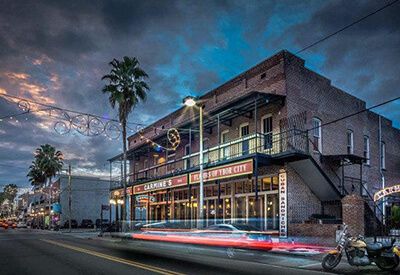 Ybor City is a fascinating historic district full of quirky shops and art galleries. In addition to in-person Tampa tours, visitors can download a free self-guided tour on their phones.
Find More Things To Do in Tampa
Check out Travelin' Coupons for great deals on popular Tampa attractions. Travelin' Coupons allows you to build your itinerary while saving money so that you can get the most out of your trip to Tampa!