Along with nearby cities Jamestown and Yorktown, Williamsburg, Virginia, is part of the "Historic Triangle" where the nation was founded. Finding things to do in Williamsburg is easy for history buffs and children alike, as the city offers myriad attractions to visitors of all ages.
1. The Capitol at Williamsburg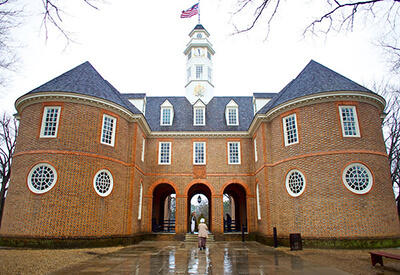 The Capitol at Williamsburg set the stage for modern American governance. In its halls, conflicts between British and American settlers began to escalate, eventually leading to the Revolutionary War.
2. Governor's Palace
Like the Capitol, Williamsburg's Governor's Palace was destroyed during America's war for independence, but its original building housed seven royal governors of the Colony of Virginia. It was later home to infamous Virginia governors Patrick Henry and Thomas Jefferson.
3. Bruton Parish Episcopal Church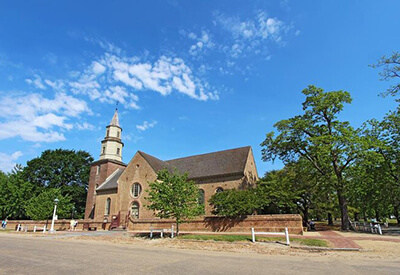 The Bruton Parish Episcopal Church has exceptional historical significance thanks to its roots in both the Church of England and the Commonwealth of Virginia. Prominent attendees included Presidents George Washington, James Madison, and John Tyler.
4. DeWitt Wallace Decorative Arts Museum & Abby Aldrich Rockefeller Folk Art Museum
Check out the Art Museums of Colonial Williamsburg to see historical relics from early British and American colonies mixed with contemporary folk art. Both museums are in one building to ensure you have ample time to explore each.
5. Colonial Williamsburg Private Tours
Colonial Williamsburg tours allow you to check out as much of the city as possible during your stay. Choose your own adventure with a private tour, exploring the places you and your family most want to see.
6. Lakewood Trail Rides
For an outdoor adventure, travel like the early colonists did at Lakewood Trail Rides. Riders get to experience English-style horseback riding through the area's most beautiful trails.
7. Busch Gardens Williamsburg
Busch Gardens Williamsburg offers a unique theme park experience with its traditional European aesthetics. Attractions range from animal exhibits to world-renowned roller coasters, ensuring entertainment for every family member.
8. Water Country USA
Those visiting Williamsburg in the hot summer months can find some relief at Water County USA. This family-friendly water park offers thrilling water slides, relaxing river rides, and several wave pools.
9. Great Wolf Lodge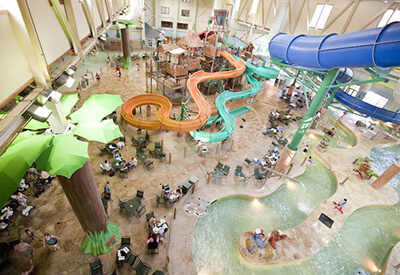 For wet adventures all year long, book a stay at Williamsburg's Great Wolf Lodge and enjoy the hotel's indoor water park. Try out the ropes course, miniature bowling alley, laser trail, or arcade if you prefer to stay dry.
10. Ripley's Believe It or Not Museum & 4D Theatre
At Ripley's in Williamsburg, a typical day involves shrunken heads and two-headed birds. If unusual sights are not your style, play a round of mini-golf or catch a movie at the museum's 4D theatre.
Williamsburg attractions range from historical landmarks to family-friendly theme parks. Visit this iconic city for an unforgettable family adventure.