How To Redeem Wanderlust Tours Promo Code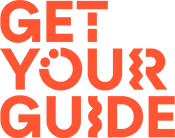 Groupon offers several discounts on things to do in Portland. CHECK HERE to see if they have a live deal today! 😍
About Wanderlust Tours
Wanderlust Tours exists to inspire its guests and vibrantly share the natural and cultural history of Oregon in order to instill appreciation and protection of the environment. Wanderlust Tours is registered with the Oregon State Marine Board and operates under special use permits from the Deschutes National Forest, Willamette National Forest, and the National Park Service.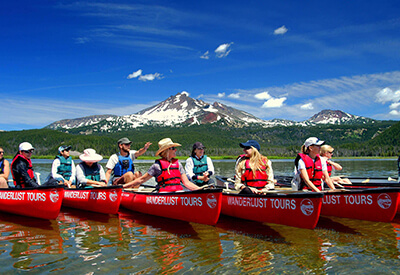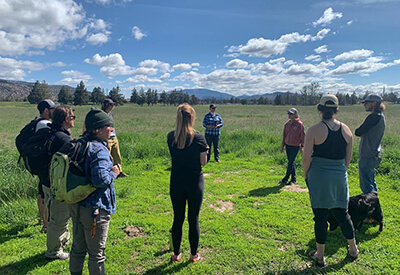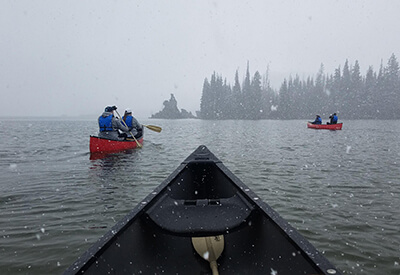 More Information on Wanderlust Tours
Wanderlust Tours are made up of people who are passionate about the intricacies of nature, have fun outdoors and thrive on sharing their knowledge with those who choose their tours. Take a look at the full list of upcoming events of Wanderlust Tours.
Half-Day Volcano Tour
Explore the belly of an ancient volcano, walk the shores of Paulina Lake, journey through the old-growth hemlock forest, and pass a towering lava flow. This tour highlights the amazing geological history of Central Oregon and the natural and cultural history of the area
Half-Day Lava Tube Cave Tour
Discover the beauty of the caves in the desert of Bend, Oregon on this half-day tour. Explore these caves with a naturalist guide who will help you to navigate these lava-formed caverns.
Moonlight and Starlight Canoe Tour
Join in on this astounding paddle on the high-elevation mountain lakes in the mighty Cascade Range. Your renowned naturalist guide will highlight the sweet spots on these stunning lakes that might not initially meet the eye. During your 2 hours on the water, along with the fun and intrigue, you can take in an understanding of heaven's starlight illuminating the darkness. Your guide will explain age-old stories and myths mixed with astronomy.
Half-Day Cascade Lakes Kayak Tour
Paddle in your kayak around high-elevation mountain lakes in the mighty Cascade Range. Soak in the panoramic views of the Three Sisters, Broken Top, and Paulina Peak.
Half-Day Cascade Lakes Canoe Tour
Join the premier destination for canoe tours in Bend, Oregon with Wanderlust Tours. Try this iconic paddling tour on the high-elevation mountain lakes in the mighty Cascade Range.
Half-Day Shoes, Brews, and Views Tour
Go splashing through the powdery of the Cascade Mountains west of Bend, Oregon. Bend. Strap on your snowshoes and sip a local brew, surrounded by incredible views.
Half-Day Limited Entry Lava Cave Tour
Take a unique subterranean tour of Bend's ponderosa pine-studded high desert and explore the cave's unique ecosystems with a professional naturalist guide.
Cascade Mountains Snowshoeing Tour and Bonfire
Experience the ultimate winter celebration in Bend, Oregon. Snowshoe with your naturalist guide to a quiet spot in the forest to bask in the glow of a bonfire in a hand-carved snow amphitheater.
Half-Day Snowshoe Tour in the Cascade Mountain Range
Snowshoe off-trail into a winter wonderland. Travel with an award-winning professional naturalist guide who will bring the area alive for you through their vibrant interpretation and knowledge of the area's natural and cultural history.
Half-Day Brews & Views Canoe Tour on the Cascade Lakes
Paddle in your canoe through high-elevation mountain lakes in the mighty Cascade Range. Soak in the panoramic views of the Three Sisters, Broken Top, and more, tasting local craft beer (or root beer) lakeside.
Health & Safety Protocols
Effective 4/27/2022, it will no longer be requiring face coverings while in our vans during transportation. It will also no longer be required while in caves during our caving tours. We fully welcome and support anyone who wishes to wear a face covering while in our office, in our vans, on tour, etc. Wanderlust Tours has been monitoring both state and federal guidelines closely and will continue to do so in order to keep our guests and employees safe. In accordance with state and federal guidelines, the mask requirements for Wanderlust Tours will be changing.
Check-In Procedure
Before your Tour: They ask that their guests prepare the following for their tour date:
Monitor Health Have no symptoms of sickness for the previous 7 days
If you've experienced any of the symptoms we ask you to postpone your travels
Waivers: When your tour is booked, you will receive a confirmation email with a link to digitally sign your waiver.
Meet at Office Location 5-10 minutes prior to tour departure
Address & Contact Information
Wanderlust Tours
61535 S. Hwy. 97 Suite 13
Bend, OR 97702