Cincinnati is chock-full of things to do for couples, young and old. Whether you are looking for a new experience or want to revisit an old favorite, we have you covered.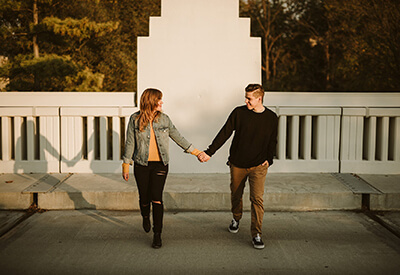 Take a carriage ride through Eden Park. Enjoy the natural beauty of the park while your driver provides you with interesting commentary about the history of Cincinnati and the garden.
Visit the Cincinnati Art Museum is has a world-renowned collection of over 60,000 works of art. A visit to the museum is a must for any couple looking for an afternoon of culture and romance.
Take a walk on the Roebling Suspension Bridge. The views from the bridge overlooking the Ohio River are simply breathtaking and provide a romantic backdrop for an afternoon stroll.
Visit the Taft Museum of Art. This museum is home to one of America's most important collections of decorative arts. Take some time to explore the beautiful rooms and gardens while enjoying each other's company.
Take a cooking class! There is nothing more romantic than spending time together in the kitchen. Whether you are looking to learn how to cook from scratch, try new recipes or brush up on old skills, COOK has some great classes for you and your loved one.
If cooking isn't your cup of tea and you just prefer to eat- try this amazing tour! Cincinnati's Streetcar Food Tour takes you to Findlay Market. The tour takes you to six popular destinations in the city.
Play bocce ball at Rhinegeist. What could be more romantic than spending an afternoon playing a game of bocce ball while sipping on some delicious craft beer?
Don't forget to check Groupon for other amazing deals in Cincinnati. Click HERE to view current offers from Groupon.
We hope this list has given you some ideas for things to do with your loved one in Cincinnati. If you are looking for more suggestions, be sure to check out our website.