If your ideal vacation destination includes sprawling wilderness that is within walking distance of urban convenience, then look no further. The wide range of things to do in Anchorage is unlike anywhere else you will ever visit.
1. Alaska Helicopter and Glacier Dogsled Tour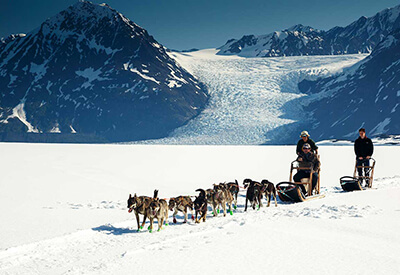 One of the Anchorage tours that offers a unique perspective of the area is the Alaska Helicopter and Glacier Dogsled Tour. After an aerial appreciation of Church Range and Knik Glacier from a helicopter, you'll land on Troublesome Glacier. When you arrive, 40 sled dogs will take you on a one-of-a-kind excursion across the Alaskan landscape.
Some people seek out Anchorage tours that merge physical fitness with sightseeing. If this sounds like you, then a guided hike across Matanuska Glacier is a perfect choice. Guests spend up to three hours exploring the terrain and snapping countless picturesque photos.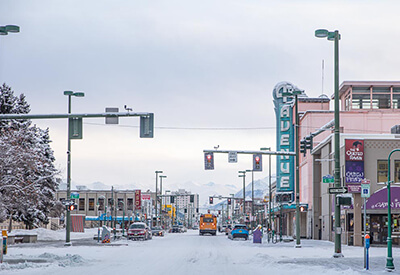 Check out geographical landmarks and sample some local delicacies on an Anchorage city tour. You will not only get a chance to see the beauty of places like Earthquake Park and Lake Hood, but you will also get a chance to try smoked salmon and reindeer sausage.
An Alaska Railroad tour begins in Anchorage and then extends the coastline of Turnagain Arm. Enjoy the views of the mountains, glaciers, canyons, and waterfalls all from the rolling comfort of your seat on the train.
5. Spirit of the Dead Adventures
One of the Anchorage attractions that invite you to summon your inner-ghost hunter is Spirit of the Dead Adventures. Guests are outfitted with equipment to catch supernatural sights and sound at the haunted Birchwood Saloon.
Enjoy some outdoor recreation along the Tony Knowles Coastal Trail. This 11-mile stretch of hiking, biking, and rollerblading access is the perfect place to work up a sweat and breathe in some natural beauty.
7. McHugh Creek Recreation Area
A day full of hiking and natural sightseeing awaits you at the McHugh Creek recreation area. Over six miles of moderate-level hiking will provide you with endless scenic views to capture with your camera.
Head to the east side of Anchorage and spend some time at Russian Jack Springs Park. This 300-acre playground will accommodate whatever your outdoor recreational preferences happen to be.
9. Kincaid Park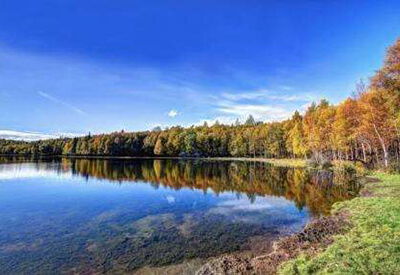 With 40 miles of hiking trails and 20 miles of single-track bike trails, Kincaid Park is one of the largest natural playgrounds in Anchorage. Anyone interested in Alaskan wildlife might even spot moose or bears inside the 1400-acre park.
10. Anchorage Market
If you are visiting Anchorage on a weekend in the months of May through September, a stroll through Anchorage Market will allow you to experience local shopping, food and entertainment.
Let Travelin' Coupons be your go-to source for the best tours and attractions. Visit our website to help you plan your next unforgettable adventure.