Chicago is a hub of the midwest and a city with lots of history and culture. There are scores of fun things to do in Chicago, from marveling at the Bean to cruising down Lake Shore Drive. Although many Chicago attractions charge fees, there are coupons available to help deflect those costs. Like any great city, some things are free.
Couponing Through Chicago
If it's a family trip to the Windy City, the Chicago Children's Museum has something for everyone. Featuring exhibits for all ages, hands-on programs for learning and fun and an affinity for firefighting, it even offers art classes.
If you're interested in Chicago tours, the Shoreline Architecture River Cruise has a lot to offer. You can marvel at the architectural feats as the buildings create a canyon-like feel around you, making your way to picturesque Wolf Point.
Another great family excursion, Ultimate Ninjas Chicago presents different levels of obstacles for kids of all ages to explore and overcome. It even has customizable running courses.
The Chicago Crime and Mob Bus Tour focuses visitors' attention on the seedy side of the Windy City. This 90-minute tour brings back infamous personalities and incidents from the past, from Al Capone's hangout spots to the sight of the St. Valentine's Day Massacre.
Another way to tap into the city's sordid past is on the Gangsters and Ghosts Tour. Your guide will bring the roaring '20s roaring back to life for you, and you may just visit a haunted speakeasy.
The Chicago City Minibus Tour is ideal for small groups. Roam the city in a cozy, nimble vehicle while your guide engages you with all sorts of Chicago history, facts and banter.
Chicago for Free
A visit to the loop could include a trip to the Chicago Cultural Center. This beautiful landmark features the largest Tiffany glass dome in the world and a massive schedule of free events, including free concerts.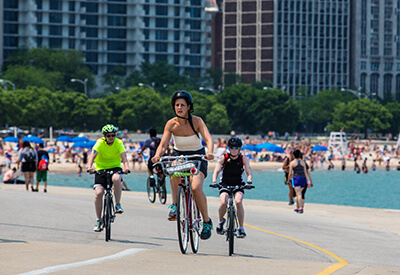 Chicago's Lakefront Trails includes 18 miles of wide pedestrian and bike lanes. Great for riding rented bicycles, people-watching or just making your way to the lake, it's a relaxed ribbon between the water and the city.
The Chicago Riverwalk is a scenic promenade that runs through the heart of the city. Great for absorbing the zeitgeist of Chicago and viewing the exquisite architecture that towers over you, the Riverwalk is a must-do for tourists and locals alike.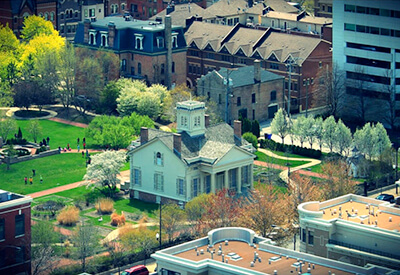 You can visit Chicago's oldest house at the Clark House Museum. Here you can get a glimpse of what the city was like in the early 1800s.
If you're planning a visit to Chicago, check in with us at Travelin' Coupons to help ensure that you get the best deals on hotels, tours and attractions.