Planning a trip to Hawaii and looking for things to do in Oahu? From Oahu tours to relaxing on its sublime beaches, you're sure to find something that suits you. There are Oahu attractions that appeal to all ages.
Couponing Through Oahu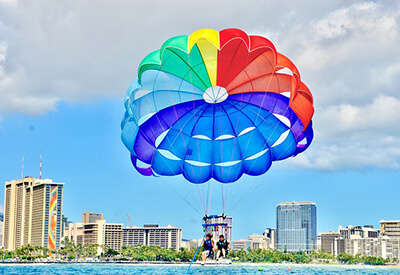 If you're up for some airborne adventure, Oahu Parasailing is for you. Catch the wind and some killer views as a boat tows your tandem-seated 'chute. You can upgrade to the extreme version if you're looking for even more excitement.
On the Oahu Sunset on the Ridge Tour, your naturalist guide will help you explore the island's serene forest. Climbing 2,400 will give you expansive views of Pearl Harbor, the west side of the island, and the stunning sunset.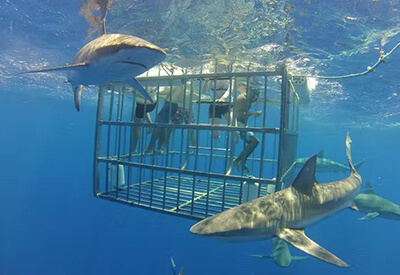 Three miles off the coast of Oahu's gorgeous North Shore, you could jump into a metal cage and surround yourself with sharks. North Shore Shark Adventures is safe and sure to get your heart pumping.
For a cultural experience like no other, you might attend the Queen's Waikiki Luau. This authentic Polynesian show features intimate singing and dancing and the thrilling Fireknife Dance.
Dolphin Watch and Snorkeling offers a family-friendly experience in which you can watch the oceanic acrobats in their habitat. You can also swim in the same waters as sea turtles or slide into the sea from the built-in waterslide.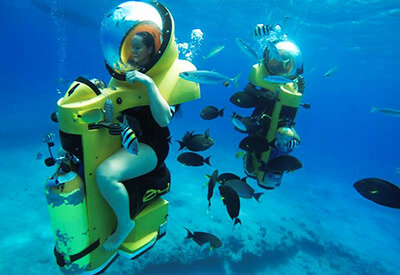 If you want to ride a scooter under the sea, you must visit the Oahu Submarine Scooter Adventure. Riding a self-propelled scooter, you can mingle with the myriad marine life and take in Diamond Head Crater back on the boat.
Oahu for Free
The most obvious free amenities on Oahu are the beaches. Lanikai Beach is considered one of the finest beaches on the planet, and you can sit on it and stare off into the tranquil blue waters, swim, surf or listen to the sea.
If you've got the stamina, you might consider climbing the Koko Head Stairs. The Koko Crater Trail climb pays off with incredible panoramic views of the island.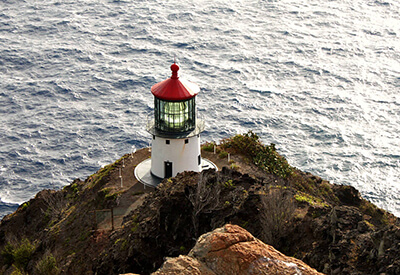 The Makapu'u Point Lighthouse Trail is an easier hike than the Koko Crater Trail but has arguably the same payoff once you arrive at the lighthouse. The views of the southeastern coastline could also yield whale or seabird sightings.
The National Memorial Cemetery of the Pacific is a special place to honor America's veterans. This serene spot allows you to witness the homage to the island's most special denizens.
Are you planning a visit to Oahu? If so, drop by Travelin' Coupons so that we can help make your experience special and save you some money along the way.