When you start planning your next trip, allow yourself a few moments to consider all the fun things there are to do in Pigeon Forge. This list of tours and attractions packs in the entertainment so that your vacation itinerary can guarantee to please.
1. Dollywood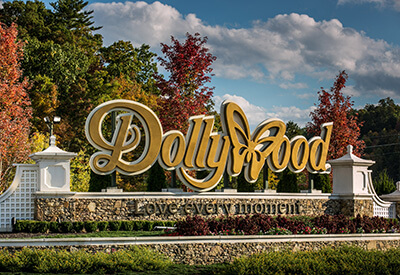 Hey there! If you're looking for a fantastic time, check out Dollywood! It's in the #1 spot for a reason! This incredible amusement park in Pigeon Forge, Tennessee, was dreamt up by the legendary country music queen Dolly Parton. And let me tell you; it's got it all!
First off, the live music shows at Dollywood are off the charts! You can groove to Appalachian tunes, tap your boots to country beats, and witness seriously mind-blowing performances. The energy is contagious, and you'll sing along in no time.
But wait, there's more! Get ready to scream your heart out on some exhilarating rides. We're talking about roller coasters that'll make your hair stand on end, like the Lightning Rod, the fastest wooden coaster in the world! And have you heard of the Wild Eagle? It's the first wing coaster in the whole United States. Trust me, and the adrenaline rush is worth it!
Oh, and let's not forget the stunning backdrop of the Smoky Mountains. It's like nature itself decided to bless this place with jaw-dropping beauty. Picture yourself soaring through the air on a thrilling ride surrounded by breathtaking views. Talk about a feast for the senses!
Dollywood also celebrates the rich cultural heritage of the region. You can witness skilled artisans creating incredible crafts like pottery and blacksmithing. And the food? Oh my goodness, it's Southern heaven! Treat yourself to finger-lickin' fried chicken, smoky barbecue, and heavenly homemade desserts.
Whether bringing the whole family or looking for a fun-filled adventure, Dollywood is the place to be. So come on over and let Dolly's infectious spirit and the magic of the Smoky Mountains sweep you off your feet. Get ready for a truly unforgettable experience! Y'all won't be disappointed!
Buckle up, my adventurous friend, because I'll take you on a sky-high escapade like no other! Picture this: you, up in the air, soaring over the charming town of Pigeon Forge in a helicopter. As you ascend, the thrill starts to tingle in your veins. The sights below unfold like a magnificent tapestry.
From your lofty vantage point, you can marvel at the Great Smoky Mountains, their majestic peaks stretching as far as the eye can see. Look down, and witness the hustle and bustle of Pigeon Forge, the colorful buildings, and the lively streets bustling with excitement. You'll spot iconic landmarks like Dollywood, its roller coasters zipping through the park, leaving laughter and exhilaration in their wake.
But it's not just about the sights; it's the feeling of freedom as the wind rushes through your hair, the adrenaline pumping through your veins. The helicopter gracefully glides over the landscape, offering a unique perspective that few experience. It's an adventure that will leave you breathless, with memories to last a lifetime.
So, my daredevil friend, if you're ready to take your Pigeon Forge exploration to new heights, hop aboard that helicopter and embrace the thrill of a lifetime. Let the skies be your playground, and let the beauty of Pigeon Forge unfold beneath your wings. Adventure awaits!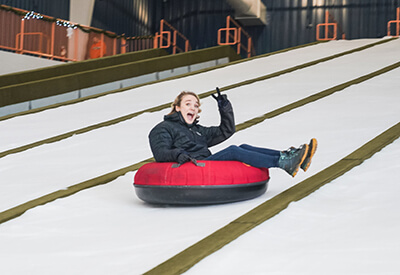 Get ready to unleash your inner snow enthusiast in the heart of Pigeon Forge! Pigeon Forge Snow Tubing is an absolute blast that'll have you sliding down the slopes with uncontrollable laughter. Picture yourself racing down the snow-covered tracks on a tube, wind in your face, and a huge smile. It doesn't matter if you're a seasoned pro or a first-time tuber; the exhilaration is real! With thrilling twists, turns, and even the occasional snow spray, this winter wonderland adventure will surely make memories that will warm your heart long after the snow has melted. Let the snow tubing madness begin! 
4. Beyond the Lens – Interactive Museum
Prepare to dive headfirst into a world that defies imagination, where reality blurs with the extraordinary. Welcome to Beyond the Lens, a mind-boggling, jaw-dropping extravaganza that will leave you in awe! Step into the shoes of a secret agent, solving mind-bending puzzles and dodging laser beams in the Spy Challenge. Immerse yourself in mind-bending illusions and optical wonders that will have you questioning everything you thought you knew. Snap selfies with your favorite celebrities and even travel through time in the Time Warp Room! Beyond the Lens is an adventure where laughter and discovery go hand in hand. Get ready to let your imagination run wild!
Hold onto your hats, folks, because we're about to embark on a wildly fun adventure at Goats on the Roof in Pigeon Forge! Yes, you read that right—there are actual goats…on the roof! This quirky and utterly delightful attraction will have you grinning from ear to ear.
As you approach the place, your eyes widen with curiosity. And there they are, the four-legged daredevils, casually grazing on top of the roof. How did they get up there? Well, my friend, they have their goat-made bridge because why not?
But Goats on the Roof isn't just about the goats flaunting their acrobatic skills. Oh no! Prepare for some goat-themed excitement as you hop on the Roof Coaster. Yes, a coaster that zips and zooms around the property, giving you an adrenaline-pumping goat's-eye view of the surrounding area. It's a wild ride you won't soon forget!
Feeling peckish? Head on over to the Fudge Shop and indulge in some mouthwatering treats. From creamy fudge to delectable ice cream, there's something to satisfy every sweet tooth. And keep an eye out for the Goat Feeding Station. Get up close and personal with these charming creatures as you feed them snacks. They'll nibble away with their adorable little goat lips, making for an unforgettable experience.
But wait, there's more! Challenge your family and friends to a round of gem mining, where you can sift through the dirt and discover beautiful gemstones to take home as souvenirs. And don't miss the gift shop, where you can find all kinds of goat-themed treasures and unique trinkets.
Goats on the Roof is where laughter, wonder, and goat-filled antics reign supreme. It's a slice of whimsy in the heart of Pigeon Forge that'll leave you smiling from ear to ear. So gather your herd and make your way to this one-of-a-kind attraction. Trust me; it's an udderly fun experience you won't want to miss!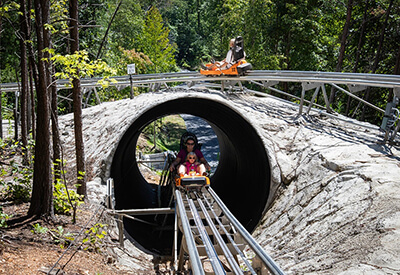 Are you ready to rock and roll down the Rocky Top Mountain Coaster? Hold on tight as you twist, turn, and zoom through the scenic mountain terrain. Feel the rush of wind in your hair and the adrenaline pumping through your veins. This gravity-defying coaster will have you laughing, screaming, and begging for another exhilarating ride. With breathtaking views and heart-pounding drops, it's a wild adventure that'll leave you grinning from ear to ear. So grab your friends, buckle up, and get ready to experience the coaster that takes fun to new heights. Rocky Top Mountain Coaster, here we come!
Prepare to lace up your walking shoes and embark on a delightful journey along the Riverwalk Trail in Pigeon Forge! This scenic path will have you strolling alongside the tranquil Little Pigeon River, surrounded by nature's beauty. Listen to the soothing sound of water as you meander through lush greenery and enjoy the fresh mountain air. Enjoy the breathtaking views, spot playful wildlife, and dip your toes in the cool water. Whether seeking a peaceful escape, a romantic stroll, or a family adventure, the Riverwalk Trail is the perfect place to unwind and connect with nature. Soak up the serenity and let the trail guide you to unforgettable moments of joy.
Step back in time and take a delightful journey along the Old Mill Trail in Pigeon Forge! This historic path winds its way through picturesque landscapes, showcasing the area's rich heritage. As you wander, you'll be enchanted by the sights and sounds of a bygone era. Immerse yourself in the story of the Old Mill, a fully operational water-powered gristmill grinding grains since 1830. Admire its charming red brick exterior and the gentle flow of the Little Pigeon River. The trail leads you through lush greenery, offering glimpses of wildlife and serene river views. The air is filled with the sweet scent of nature, creating a peaceful ambiance that invites relaxation and reflection. Whether you're a history buff, a nature lover, or simply seeking a serene escape, the Old Mill Trail is a must-visit destination that transports you to a simpler, more enchanting time. So take a stroll, soak in the ambiance, and let the magic of the past embrace you.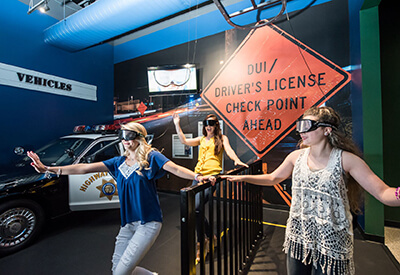 Prepare to be captivated by the thrilling world of crime and punishment at Alcatraz East! This fascinating museum in Pigeon Forge will have you channeling your inner detective and delving into the shadowy depths of notorious criminals and captivating mysteries.
Step inside and embark on an immersive journey through the history of American crime. From the Wild West to modern-day heists, Alcatraz East will transport you to the heart of the action. Marvel at artifacts and memorabilia from infamous criminals like Al Capone, John Dillinger, and Bonnie and Clyde. You'll be in awe of these legendary figures' sheer audacity and cunning.
But it's not all about the bad guys. Alcatraz East also pays tribute to the unsung heroes who fight crime daily. Explore interactive exhibits that shed light on forensic science, crime-solving techniques, and the incredible work of law enforcement officers.
Feeling brave? Step into the shoes of a detective and try your hand at cracking a case in the Crime Scene Investigation Experience. Analyze evidence, solve puzzles, and put your sleuthing skills to the test. It's like stepping into an episode of your favorite crime drama!
Oh, and did I mention the interactive prison experience? Get a taste of life behind bars as you walk through a replica of an Alcatraz prison cell. Feel the chills as you imagine the lives of the inmates who once called this place home.
With its intriguing history, engaging exhibits, and interactive experiences, Alcatraz East is a must-visit for crime buffs, curious minds, and anyone looking for a thrilling adventure. Get ready to immerse yourself in crime and justice like never before. The doors of Alcatraz East are open, and a captivating journey awaits!
10. Hatfield & McCoy Dinner Show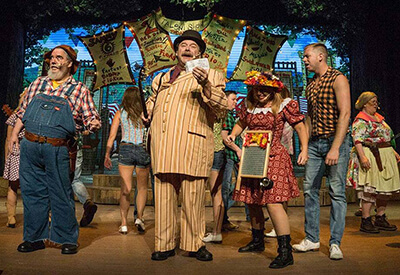 Prepare for a wild ride filled with laughter, feuds, and unforgettable entertainment at Hatfield and McCoy Dinner Show in Pigeon Forge! Step into the world of the Hatfields and McCoys, two legendary Appalachian families known for their infamous rivalry. As you enter the theater, you'll be greeted by a lively, exciting atmosphere. Take your seat and prepare for a feast of epic proportions as you indulge in a delicious Southern-style meal that'll have your taste buds dancing.
But the real fun begins when the show kicks off! Watch as the Hatfields and McCoys battle it in a hilarious, action-packed extravaganza. Witness stunts, high-energy singing and dancing, and side-splitting comedy that will leave you in stitches. It's a theatrical showdown like no other, filled with antics, shenanigans, and good old-fashioned family fun.
Be prepared to get involved, because audience participation is a must! You might find yourself cheering for your favorite family, clapping along to catchy tunes, or even joining in on some friendly competitions. The energy in the room is infectious, and you'll feel like part of the Hatfield and McCoy clan before you know it.
And don't forget about the talent on stage! From the incredible performers to the skilled musicians, the show is a showcase of talent and dedication. The production values are top-notch, with impressive sets, dazzling costumes, and special effects that will amaze you.
Hatfield and McCoy Dinner Show is a true gem of entertainment in Pigeon Forge. It combines delicious food, thrilling performances, and a whole lot of laughter into one unforgettable experience. So gather your kinfolk, put on your best hat, and get ready for a rip-roaring, knee-slapping good time. Hatfield or McCoy, it doesn't matter—everyone is in for a hilarious adventure that will make memories to last a lifetime. Yee
Pigeon Forge is Waiting for You
Let Travelin' Coupons relieve you of that vacation-planning pressure. Visit our website to explore all of the attractions, tours and other exciting things to do in Pigeon Forge that will make your next family trip unforgettable.